Download/Install/Uninstall iTunes M4V Converter
Download/Install
To install MuConvert iTunes M4V Converter, simply navigate to its product page for hit the provided download button here. It is noted that MuConvert iTunes M4V Converter is only available on Windows and Mac systems currently.
When you have downloaded the installation package, open it and the setup process will start. Simply follow the instruction to complete the installation process for getting MuConvert iTunes M4V Converter installed on your Windows/Mac desktop properly.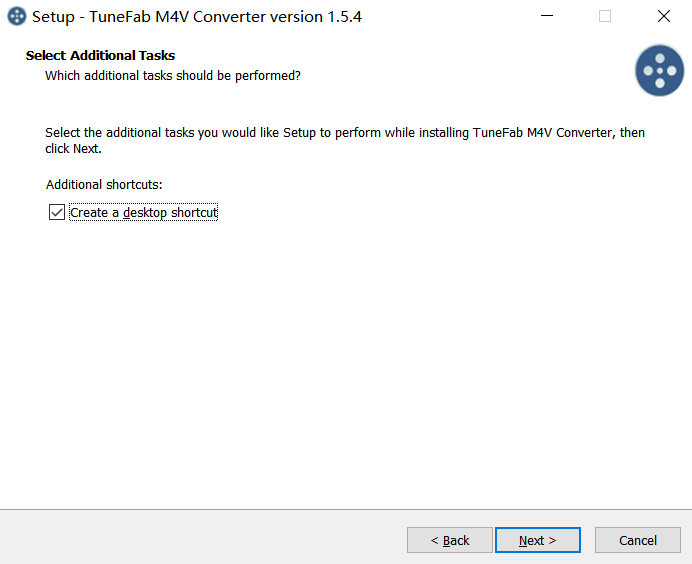 Uninstall
If you are not satisfied with MuConvert iTunes M4V Converter unexpectedly, you are also able to uninstall the software easily.
On Windows, you just need to access the icon of MuConvert iTunes M4V Converter on desktop, then right-click on it and select to uninstall.
On Mac, you should navigate to "Launcher" and find MuConvert iTunes M4V Converter icon. Long press on the icon and the "X" icon will show up. Hit it and the software can be uninstalled successfully.
Purchase and Register MuConvert iTunes M4V Converter
MuConvert iTunes M4V Converter provides both free trial and registered version for users to experience the full features. The core difference between them should be the limitation added on the free trial – users are only available to convert the first 5 minutes of each iTunes video.
To unlock such restriction, users can navigate to MuConvert Online Store for selecting a plan to subscribe for. Make sure you enter the correct email address while purchasing the license code. Because when the payment completes, you will receive an email with the license code attached for activating the program.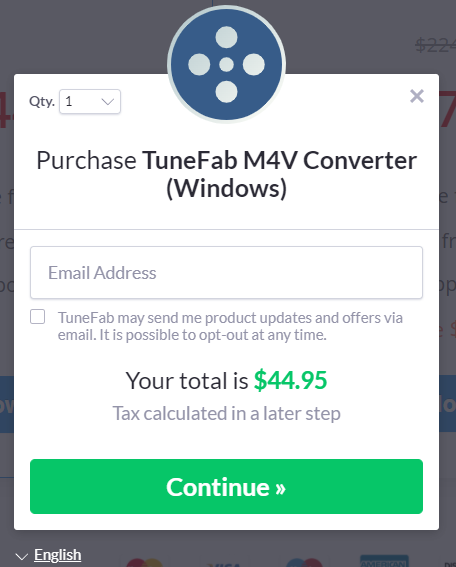 When you receive the license code, launch MuConvert iTunes M4V Converter and hit to activate the program in the pop-up window. Choose the "Activate" option and enter the license code to the blank bar. Then submit "Unlock" and MuConvert iTunes M4V Converter will be activated.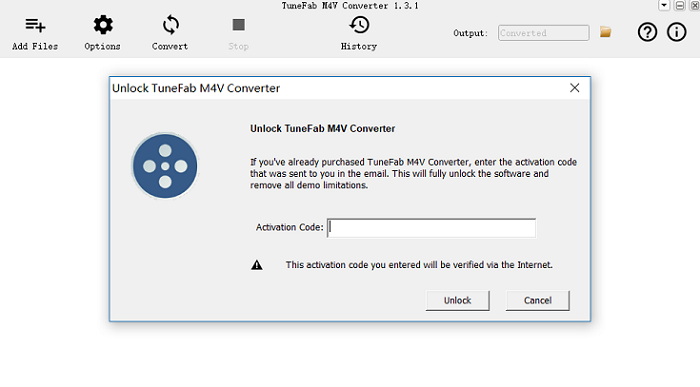 Convert iTunes M4V Videos to MP4
MuConvert iTunes M4V Converter is an easy-to-grasp software providing a convenient service to convert iTunes M4V videos to MP4. Now see the guide and learn how MuConvert iTunes M4V Converter works to help convert iTunes videos to MP4.
STEP 1. Launch MuConvert iTunes M4V Converter. Meanwhile, iTunes will be activated as well. You need to make sure you have downloaded the iTunes videos and saved them in iTunes Library.
STEP 2. Click the "Add Files" icon and all iTunes videos will be listed in "Library". Select one or more M4V videos you desire to convert, and submit "Add".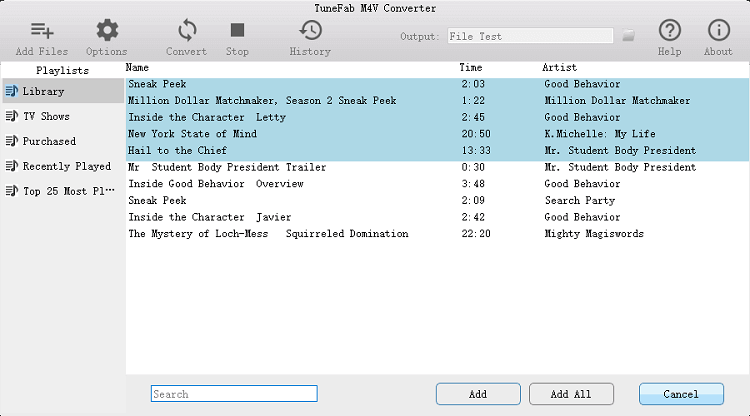 STEP 3. Finally, start converting iTunes M4V videos to MP4 by hitting the "Convert" icon. Just a moment, you can get the DRM-free MP4 videos for offline playback.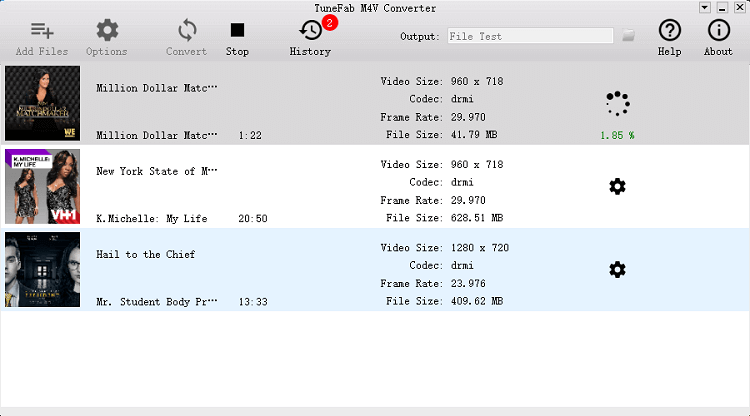 Select Audio Track and Subtitle
MuConvert iTunes M4V Converter is able to detect all the audio tracks and subtitles of the iTunes M4V movies. Thus, after importing the videos to the converter, you are able to hit the gear setting icon provided on the column of the iTunes video. From the menu, you are available to select the audio track and subtitle you need to convert together with the source video. Finally, hit "Convert" and the iTunes M4V video can be converted with the audio track and subtitle you just selected.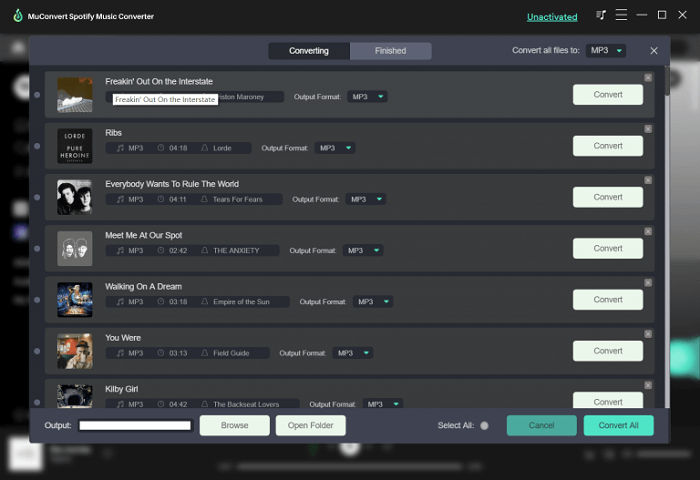 STEP 4. Select the songs and also output format for conversion. You are available to choose MP3 or other formats like M4A, WAV, and FLAC.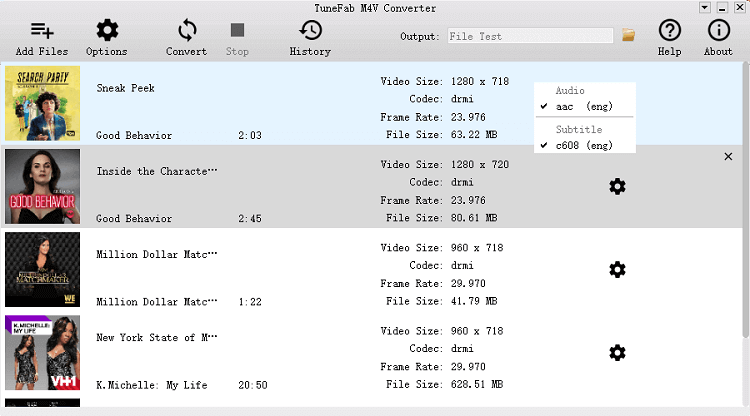 Change Output Folder
By default, all your converted iTunes videos would be saved to a folder created by MuConvert iTunes M4V Converter by default. If you desire to change another specific output destination for preserving the output iTunes videos, you just need to go to the "Options" button on the menu bar, and here you are able to browse for selecting another folder to preserve the converted iTunes videos locally.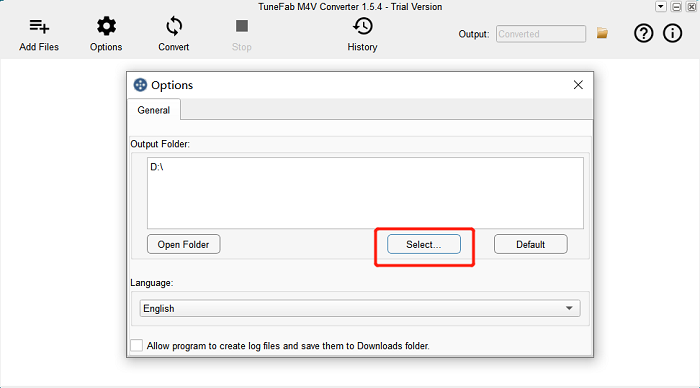 Change Program Language
As an international software, MuConvert iTunes M4V Converter supports several foreign languages for providing convenient iTunes video converting services to users from around the globe. The supported languages of MuConvert iTunes M4V Converter include French, Japanese, Simplified Chinese, and Chinese Traditional, Spanish, and Deutsch.
To switch the program language from one to another, you need to hit the "Options" icon on the menu bar of the program interface. Then select "Language" and choose the language option you need to switch to.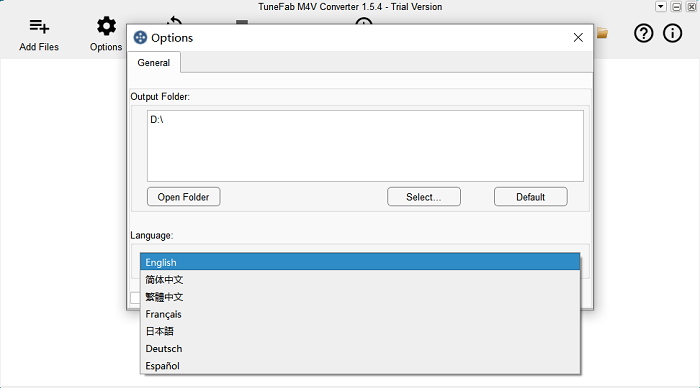 Update Spotify Music Converter
MuConvert iTunes M4V Converter will be regularly updated for enhancing its functionality, thus providing users with better service. You have 3 ways to update MuConvert iTunes M4V Converter for getting its latest version.
Way 1. Auto-update
The software would automatically notify users that there has been an update when the latest version is released as they open the software. When you see a pop-up window saying that MuConvert iTunes M4V Converter has a new update, you only need to submit "Update Now" and wait for the program to be updated automatically.
Way 2. Manually Check for Update
You are also available to check whether there has an available update inside MuConvert iTunes M4V Converter. Simply drop down the menu by hitting the down arrow icon on the top right corner, then click to "Check for Updates" to upgrade the program, and MuConvert iTunes M4V Converter will automatically search for the latest version and provide you with option to update the software.

Way 3. Re-install iTunes M4V Converter
As we know, the official site will always provide the latest download link, enabling users to install the latest version. Hence, you are also able to navigate to the official product page of MuConvert iTunes M4V Converter or MuConvert's download center for getting the latest MuConvert iTunes M4V Converter re-installed again.