How to Convert Spotify OGG to MP3 Without Quality Loss?
Originally, OGG (also named OGG Vorbis) is an open-source audio format, which can bring greater sound quality for giving you a better experience in music listening. However, Spotify OGG has something different – it is encrypted by DRM (Digital Rights Management), a tech used to protect streaming media from being copied or transferred freely.
Worse yet, because of DRM, many Spotify users also discovered the inconvenience of streaming Spotify OGG songs. Hence, they start wondering if we can also convert Spotify OGG to MP3 to remove certain limitations and enjoy Spotify playback in more flexible ways. Now, let's first learn about what is Spotify OGG and why some people would want to convert it to MP3.
Compared with the original OGG Vorbis format, Spotify OGG would be slightly different. Before finding the appropriate tool to convert Spotify OGG to MP3, you'd better grasp what it is first.
What's Spotify OGG Vorbis? Why Does Spotify Use Spotify OGG Vorbis?
As mentioned, the most obvious difference between the ordinary OGG and Spotify OGG Vorbis formats should be the fact that – Spotify OGG is encrypted by Spotify's DRM technology, making the music resources can only be used following Spotify's rules, including:
The Spotify OGG songs with the highest 320 kbps quality can only be played after subscribing to Spotify Premium.
You can't download Spotify OGG songs if you are using a Spotify free account.
Even if you are a Spotify Premium user, the downloaded Spotify OGG songs will be formatted in protected files with an extension ".file" that can only be played within the Spotify app, and it won't be possible for you to convert them to MP3 for listening elsewhere.
The reason that Spotify empowered DRM to encrypt its OGG songs as a way to prevent users from downloading or using these resources, leading to the loss of the content creators and companies. In other words, DRM is a means to protect Spotify's streaming media from being pirated or abused illegally.
Despite protecting the music resources, as OGG is able to deliver better audio quality (almost comes up on top among a variety of audio formats), Spotify also used OGG Vorbis to separate the music quality for different users:
On Spotify mobile and desktop apps, music is formatted in OGG Vorbis at a bitrate ranging from 96 to 320kbps (free accounts can only set the highest quality up to 160kbps)
On Spotify web player, music is streamed in AAC in 128kbps for free users and 256kbps for premium users
Although Spotify OGG does have limitations (as it is encrypted by DRM), it does offer better quality and helps you have a nice music streaming experience. However, with DRM encryption applied, you must obey Spotify's streaming rules to enjoy the songs and podcasts playback within the platform.
Where to Find Downloaded Spotify OGG Local Files?
Spotify has provided benefits for premium users – with the ability to download Spotify OGG songs and enjoy them offline. If you have processed the music download on Spotify's desktop software, you are possible to find the downloaded Spotify OGG local files. Here shows you the way to check where does Spotify download music to:
STEP 1. Launch Spotify desktop software, then navigate to "Menu" > "Settings".
STEP 2. Scroll down to "Offline storage location", then you are able to view the path that saves the Spotify OGG downloads.
STEP 3. Open your File Explorer and access the folder to find all the Spotify OGG files saved there.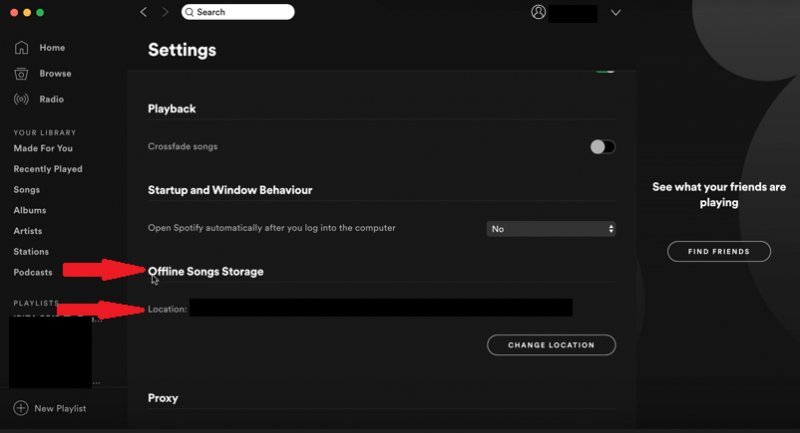 Note: However, you should notice that even though you are able to reach these Spotify OGG files, as they are encrypted by DRM, you are still unable to stream or use them in other software.
How to Convert Spotify OGG Vorbis to MP3 in 320 kbps
To draw a simple conclusion, it is obvious that Spotify OGG has limited our playback with DRM encrypted applied. Hence, users who desire to convert Spotify to MP3, are actually considering removing DRM and getting free music files to stream more conveniently, especially transfer to devices that are unavailable to install Spotify at all. For such purposes, here would like to recommend the best Spotify to MP3 converter, MuConvert Spotify Music Converter to you.
MuConvert Spotify Music Converter is a desktop software that empowers professional functionality to remove Spotify OGG DRM, and then convert Spotify OGG Vorbis to MP3, M4A, and other mainstream formats, enabling you to save the songs as local media files and then transfer them to any device, like MP3 players, to stream offline. When it provides the highest 320kbps quality to encode the downloaded Spotify songs, you are able to maintain the original music playback experience after downloading them offline.
Key Features:
Offers in-built Spotify Web Player for directly searching and selecting OGG songs, playlists, and podcasts to convert;

Provides the common MP3, M4A, WAV, and FLAC formats to select convert Spotify OGG Vorbis to;

Supports changing the audio quality freely as you need (including the highest 320 kbps bitrate);

Saves the ID3 tags and metadata information while processing the Spotify OGG to MP3 conversion;

Speeds up music conversion to at least 5X faster;

Supports the batch convert feature to save your time by processing several music downloads at once.
Now, also grasp the brief guide below and see how MuConvert Spotify Music Converter helps to convert Spotify OGG to MP3 in a hassle-free way:
Step 1. Sign in to Spotify Web Player in MuConvert
Firstly, finish installing MuConvert Spotify Music Converter on your computer. When you open the software, you need to click "Open the Spotify Web Player" and sign in using your own Spotify account.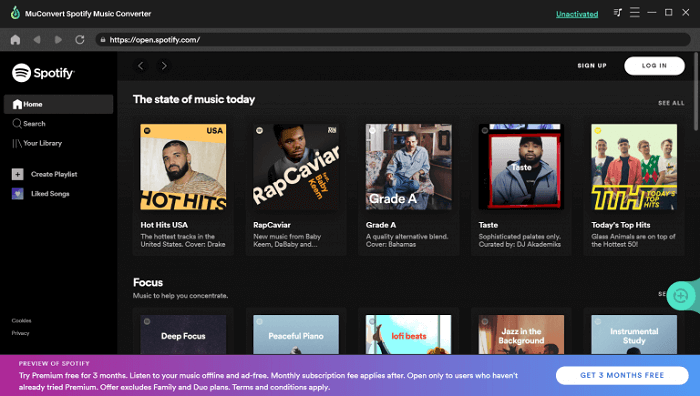 Step 2. Search for Spotify Songs, Playlists, and Podcasts to Convert
After signing in the in-built Spotify Web Player, you can directly search for the encrypted Spotify OGG songs, playlists, and podcasts you want to convert to common MP3 files to bring everywhere to enjoy. When you find the results, simply drag them to the "+" button to convert.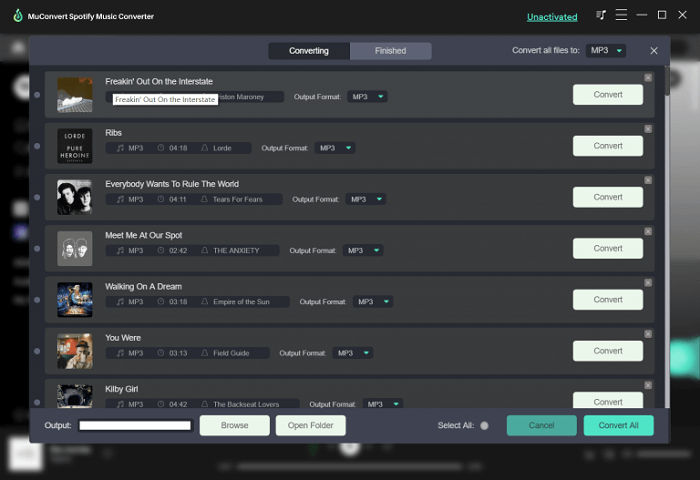 Step 3. Select Format and Quality for Spotify OGG Songs
When all the Spotify songs are added now, simply go to the top-right corner and click the "Convert all files to" menu to select "MP3" from the list to convert Spotify OGG songs to.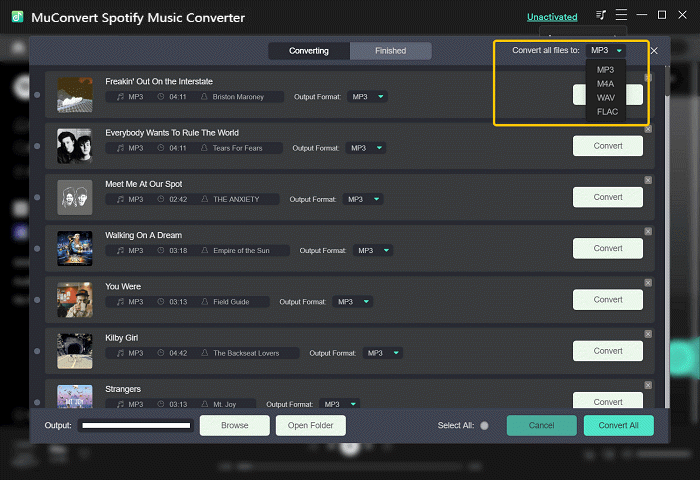 If you want to set the output quality as the best option at 320 kbps, you need to open "Menu" on the top-right of the menu and go to "Preferences". By turning to "Advanced" you can find the 320kbps quality option in "Bitrate".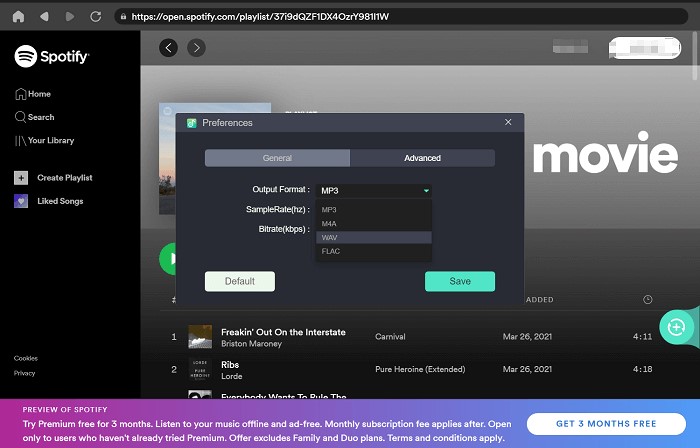 Step 4. Convert Spotify OGG to MP3 Immediately
Finally, simply click the "Convert All" button to start converting Spotify OGG songs to MP3 now. MuConvert Spotify Music Converter will immediately process at a fast speed to finish the conversion for you.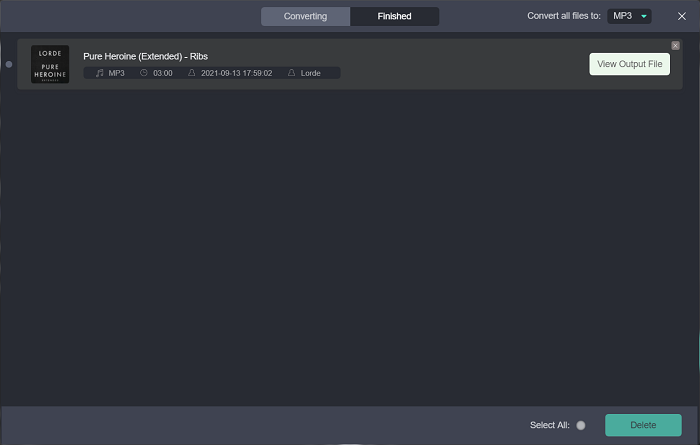 FAQs About Converting Spotify OGG to MP3
OGG VS MP3, Which is Better?
Before converting Spotify OGG to MP3, you may wonder which format would be better. Hence, here simply compare these two formats for you and enables you to better select the option you will need:
OGG

MP3

File size

Sound Quality

Almost the same in 128kbps, better in 320kbps

Lossy Compression

Compatibility

On less devices and players

On almost all devices and Player
Is Ogg Vorbis Better than AAC?
The answer to this question would vary from person to person based on your requirements. Compared from the sound quality and compression methods applied, both audio formats perform similar quality outputs to users.
However, if you consider to play the music files on more devices, MP3 would be better for you as it is a universally-supported format compatible with most devices. As for OGG Vorbis, it is able to carry the same music quality, but only occupies very little file sizes, which would be better for users to preserve without taking up much storage space. So, which one would be better would be decided based on your personal needs.
Can You Convert OGG to MP3 with VLC?
If the OGG file you want to convert to MP3 is protection-free, the built-in conversion feature offered by the open-source media player, VLC can help you do it directly. Simply open the software and add the file to VLC, you can go to "Convert/Save" under "Media" to select converting OGG to MP3 directly.
However, if you are converting the protected Spotify OGG to MP3, VLC can't work for you. Instead, you need to use
MuConvert Spotify Music Converter
to remove the protection and convert the OGG songs to MP3 at once.
When Spotify OGG is protected by DRM, it means that the common OGG to MP3 converter can't process the conversion anymore. You will need more professional help from MuConvert Spotify Music Converter. When the software can help you remove DRM and convert Spotify OGG to MP3 without quality loss but at a fast speed, you can have a good experience both when converting Spotify songs or enjoying them offline. Now, freely install
MuConvert Spotify Music Converter
and try it now!