How to Convert Spotify OGG to MP3 Without Quality Loss?
Originally, OGG (also named OGG Vorbis) is an open-source audio format, which can bring greater sound quality for giving you a better experience in music listening. However, Spotify OGG has something different – it is protected by DRM (Digital Rights Management), which makes the music download and format conversion highly restricted by Spotify. So, this article will mainly focus on Spotify OGG and the way to convert Spotify OGG to MP3 for removing certain limitations to enjoy Spotify playback in more flexible ways. Now, let's first learn about what is Spotify OGG and why some people would want to convert it to MP3.
What Is Spotify OGG Vorbis?
To deliver a tier music playback experience, Spotify has used different audio formats to separate different quality options:
On Spotify mobile and desktop apps, music is formatted in OGG Vorbis at a bitrate ranging from 96 to 320kbps (free accounts can only set the highest quality up to 160kbps)
On Spotify web player, music is streamed in AAC in 128kbps for free users and 256kbps for premium users
As you can see, Spotify OGG Vorbis is one of the audio formats used by Spotify to encode the best quality option, 320 kbps. Except for this, another difference between Spotify OGG and the normal OGG format should be the fact that Spotify has used DRM to protect OGG songs. You may face limitations in streaming Spotify OGG Music like the following ones:
The Spotify OGG songs with the highest 320 kbps quality can only be played after subscribing to Spotify Premium.
You can't download Spotify OGG songs if you are using a Spotify free account.
Even if you are a Spotify Premium user, the downloaded Spotify OGG songs will be formatted in protected files with an extension ".file" that can only be played within the Spotify app, and it won't be possible for you to convert them to MP3 for listening elsewhere.
Till now, you can clearly understand that Spotify OGG is different from the common OGG audio files – because it is limited by Spotify's DRM technology. This brings to many inconvenient cases, especially when you want more free ways to enjoy Spotify playback offline. That's why more Spotify users are beginning to wonder if there is a way that can help them convert the protected Spotify OGG to MP3, so that they can have a free Spotify Music streaming experience without being greatly limited by the official. If you are also one of them, now, just keep reading.
Convert Spotify OGG Vorbis Songs to MP3 in 320kbps
Actually, it is completely possible to convert Spotify OGG to MP3 if you can find the right tool to help. Here,
MuConvert Spotify Music Converter
is prepared for you.
When you know that DRM is the main reason stopping you to enjoy Spotify Music playback freely or convert them to MP3, of course, you need to remove it, and MuConvert Spotify Music Converter can bring professional help to you. The software can work stably on both Windows and Mac computers, bringing fast conversion speed to help you easily remove DRM protection from Spotify songs, playlists, and podcasts, then also convert them to MP3 or other common audio formats for saving offline. The software provides the highest 320 kbps quality for you to select, so you can keep Spotify songs downloaded in original high quality and ensure the best playback experience offline.
Offers in-built Spotify Web Player for directly searching and selecting songs, playlists, and podcasts to convert
Provides the common MP3, M4A, WAV, and FLAC formats for selecting
Supports changing the audio quality freely as you need (including the highest 320 kbps bitrate)
Saves the ID3 tags and metadata information while processing the Spotify music download
Speeds up the music conversion to at least 5X faster
Supports the batch convert feature to save your time by processing several music downloads at once
Step 1. Sign in to Spotify Web Player in MuConvert
Firstly, finish installing MuConvert Spotify Music Converter on your computer. When you open the software, you need to click "Open the Spotify Web Player" and sign in using your own Spotify account.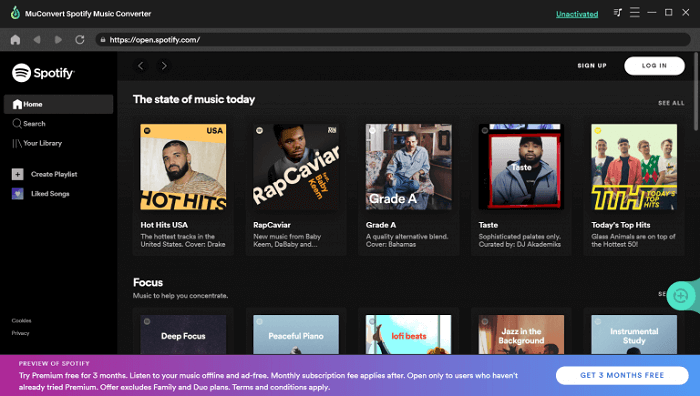 Step 2. Search for Spotify Songs, Playlists, and Podcasts to Convert
After signing in the in-built Spotify Web Player, you can directly search for the songs, playlists, and podcasts you want to convert to common MP3 files to bring everywhere to enjoy. When you find the results, simply drag them to the "+" button to convert.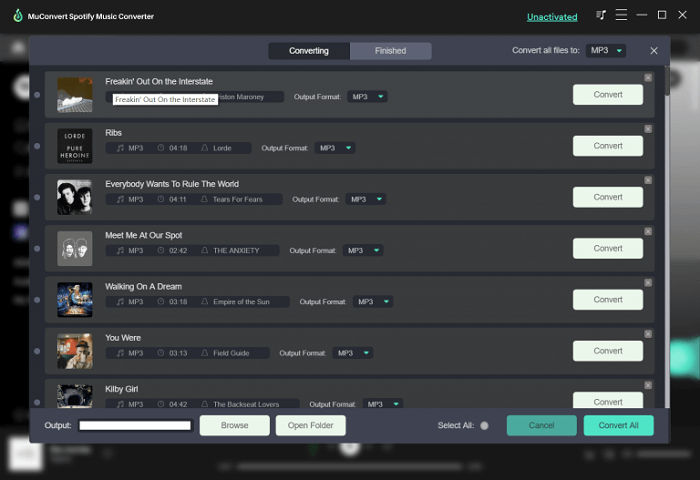 Step 3. Select Format and Quality for Spotify Songs
When all the Spotify songs are added now, simply go to the top-right corner and click the "Convert all files to" menu to select "MP3" from the list.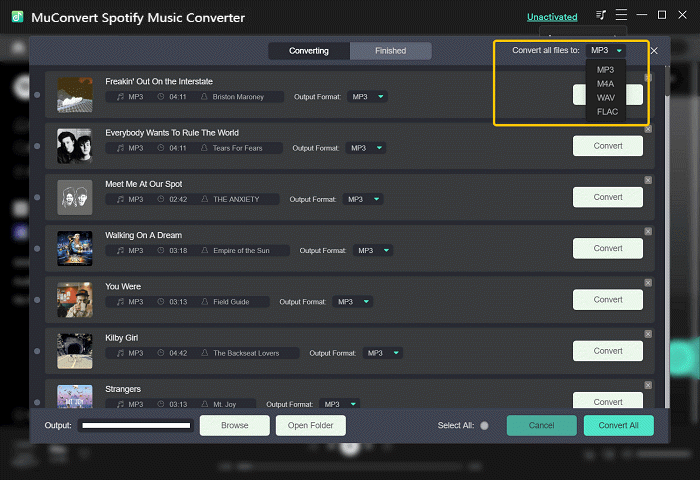 If you want to set the output quality as the best option at 320 kbps, you need to open "Menu" on the top-right of the menu and go to "Preferences". By turning to "Advanced" you can find the 320kbps quality option in "Bitrate".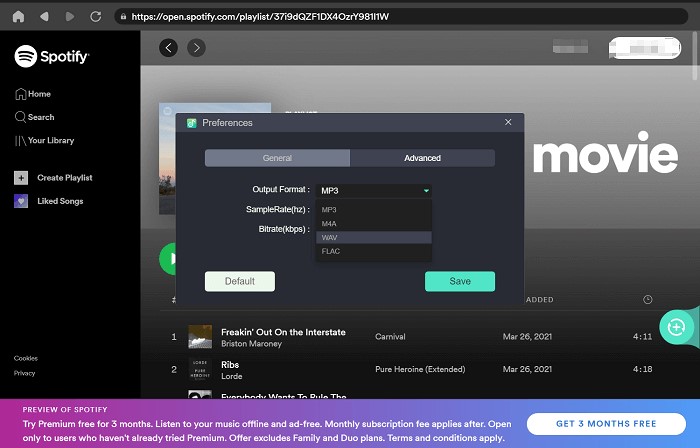 Step 4. Convert Spotify OGG to MP3 Immediately
Finally, simply click the "Convert All" button to start converting Spotify OGG songs to MP3 now. MuConvert Spotify Music Converter will immediately process at a fast speed to finish the conversion for you.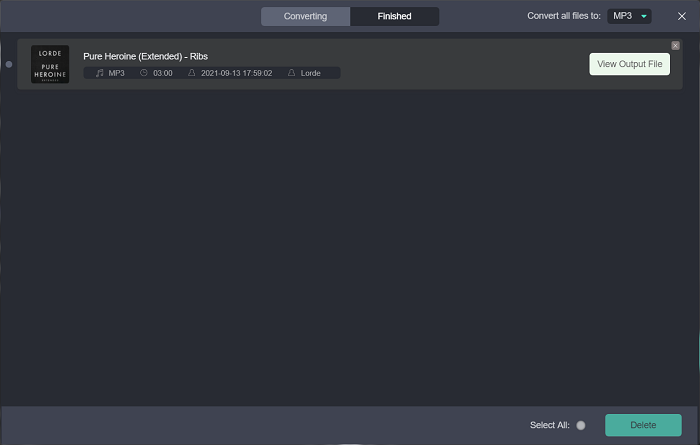 FAQs About Converting OGG to MP3
Can You Convert OGG to MP3 with VLC?
When OGG is divided into open-source and protected ones, you will need to face different situations.
If the OGG file you want to convert to MP3 is protection-free, VLC can help you do it directly. Simply open the software and add the file to VLC, you can go to "Convert/Save" under "Media" to select converting OGG to MP3 directly.
However, if you are converting the protected Spotify OGG to MP3, VLC can't work anymore. Instead, you need to use
MuConvert Spotify Music Converter
to remove the protection and convert the OGG songs to MP3 at once.
OGG VS MP3, Which Is Better?
To decide whether OGG or MP3 is better, you will need to first check the differences between them:
OGG

MP3

File size

Sound Quality

Almost the same in 128kbps, better in 320kbps

Lossy Compression

Compatibility

On less devices and players

On almost all devices and Player
To conclude, both formats have its advantages and also disadvantages. For OGG, it wins at having smaller size but can also offer the same great sound quality. While for MP3, its high compatibility surely wins. So, which one would be better would be decided based on your personal needs.
When Spotify OGG is protected by DRM, it means that the common OGG to MP3 converter can't process the conversion anymore. You will need more professional help from MuConvert Spotify Music Converter. When the software can help you remove DRM and convert Spotify OGG to MP3 without quality loss but at fast speed, you can have a good experience both when converting Spotify songs or enjoying them offline. Now, freely install
MuConvert Spotify Music Converter
and try it now!