How to Get Spotify Free Trials (Even Keep Songs Offline Forever)
Spotify is one of the world's most popular music streaming platforms. Although it is not a subscription-based music application like Amazon Music, free users on Spotify still struggle with restrictions such as ads, low sound quality, and the inability to download music.
But fortunately, Spotify offers free users some ways to try Spotify premium free. To help you out, 6 ways to get Spotify free trial will be presented in this article. Moreover, the steps to get the corresponding methods will be indicated as well.
Method 1. Get 3 Free Months of Spotify Premium [for New Users]
On August 15, 2022, an article titled Keep Summer From Ending With Unlimited Music and Podcasts for Less was posted on Spotify's blog post, making it clear that free users and new users who had never signed up for a Spotify account would receive a free three-month Individual Premium plan.
Not only that, for those who canceled their Individual Premium plan before July 15 and want to get it back, Spotify is offering three months for just $9.99. That's less than $4 a month for unlimited music and podcasts.

These offers are available beginning August 15 and through September 11.
Steps to Claim the Spotify Premium Three-Month Free Trial
Step 2. Click the Get 3 months free button.
Step 3. If you are a new user, you need to register your account and log in first. Or you can log in to your account if you are a free user.
Step 4. Follow the on-screen prompts to finish getting the free trial.
If you don't want to continue using premium after the three-month trial, you can cancel the subscription before the end of the three-month period. But if you don't cancel, you will continue to buy premium at the original price.
Method 2. Get Spotify Premium Free Trial for 3 Months [PayPal]
If you have PayPal, then the way to get a free 3-month Spotify premium trial that is well-suited to you. If you pay with PayPal when you buy a Spotify Individual Premium plan, then you can get a 3-month free trial on Spotify. If you are eligible to buy this, you need to buy it before September 15, 2023, or the promotion will end!
Similarly, you can cancel your subscription at any time during the 3-month Trial Period. If you do not cancel your subscription before the end of the 3-month trial, you will automatically become a recurring monthly subscriber to Spotify Premium and charged for the monthly price ($9.99).

Steps to Get 3 Month Free Spotify from PayPal
But fortunately, Spotify offers free users some ways to try Spotify premium free. To help you out, 6 ways to get Spotify free trial will be presented in this article. Moreover, the steps to get the corresponding methods will be indicated as well.
Step 2. Click the Get Offer button and sign in with your PayPal account. (If you don't have PayPal, you can sign up for one first)
Step 3. After signing in, you can get Spotify Subscription free through PayPal.
This promotion is valid for users with an active US account.
Method 3. Get 6-Month Spotify Premium for Free [Walmart Plus Membership]
From March 8, 2022, Spotify and Walmart+ are working together to provide new and existing Walmart+ members with a six-month trial of Spotify Premium, valued at $60.  And before March 6, 2023, those new and existing Walmart+ members who have never tried Spotify Premium can participate in the program.
Steps to Get 6-month Free Premium with Walmart+
Step 2. Head over to Spotify and choose your Premium plan.
Step 3. Enjoy 6 months of ad-free music listening on any device.
Method 4. Get 3-Month Free Trial of Spotify [Exclusive for New Samsung Device]
If you buy a Samsung Galaxy phone or tablet after May 31, 2022, or if you plan to buy a Samsung Galaxy mobile device before May 30, 2023, you are eligible to participate in the Samsung and Spotify joint promotion that will give you a free six-month Spotify Premium trial.
But if you don't buy Samsung Galaxy devices between May 31, 2022, and May 30, 2023, you are not eligible for this promotion. And the activity is also not available for users who are already Spotify subscribers.

Only residents of the United States and the District of Columbia who have purchased Samsung Galaxy phones or tablets during the activity period are eligible for redemption.
Steps to Redeem Free 3-month Spotify Trial with Samsung
Step 1. Open the Spotify app preloaded on your Samsung Galaxy smartphone or tablet.
Step 2. Log in or create an account, and click the "Premium" option.
Step 3. Tab "Spotify Premium for Samsung".
Step 4. Click "Try 3-Month Free" to redeem the offer.
Method 5. Become a Spotify Premium User for Free [If You Are Starbucks Partners]
What is a Starbucks partner? A Starbucks partner is actually an employee who works at Starbucks. Starbucks employees are called partners because these employees share in the success of Starbucks.
In daily life, not only do Starbucks partners get free drinks and discounts on purchases, but they can also listen to full-service Spotify. They can choose what to listen to, create radio stations, and access Starbucks' in-store playlists.

Steps to Use Spotify Premium Free as a Starbucks Partner
Step 1. Log in or sign up for a Spotify subscription.
Step 2. Connect your Spotify account with Spotify's Partner Provisioning Portal. This will help link Spotify and Starbucks verification systems.
Step 3. Verify you're a partner by entering your last name and Starbucks Global User Name. Your Global User Name is your 2 character country code + your partner number.
Step 4. Now you're registered! Click to start listening. Please note it could take a few hours to activate your new subscription.
If you already have a Premium subscription, you must cancel your premium subscription first, and return once your current billing period has ended. Don't worry—your playlists and preferences will be maintained.
How to Cancel Spotify Free Trial to Avoid Unnecessary Cost?
If you have successfully redeemed your Spotify Individual Premium Plan in the above way, but you don't want to continue your subscription after the trial, you can follow these steps below to cancel your Spotify subscription.
Step 2. In the account overview section, scroll down until you find the "Your Plan" section.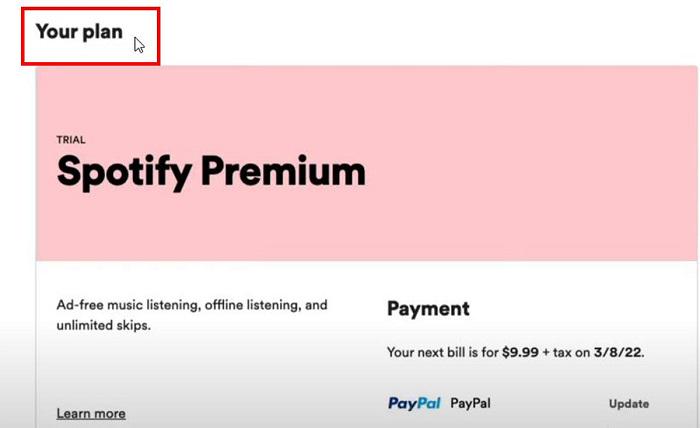 Step 3. Click the "Change Plan" button.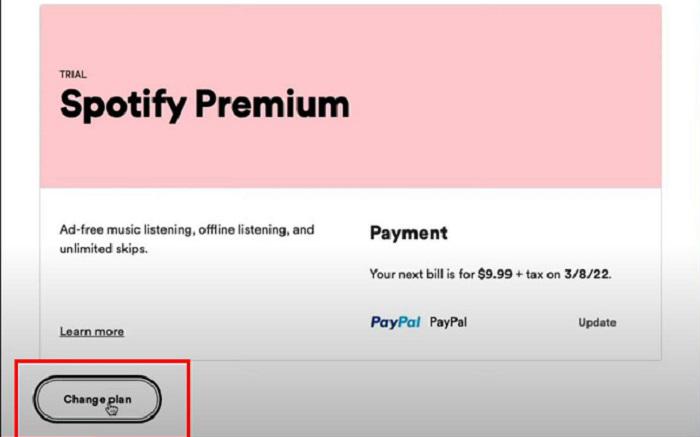 Step 4. Scroll down your mouse and click on the "Cancel Premium" button.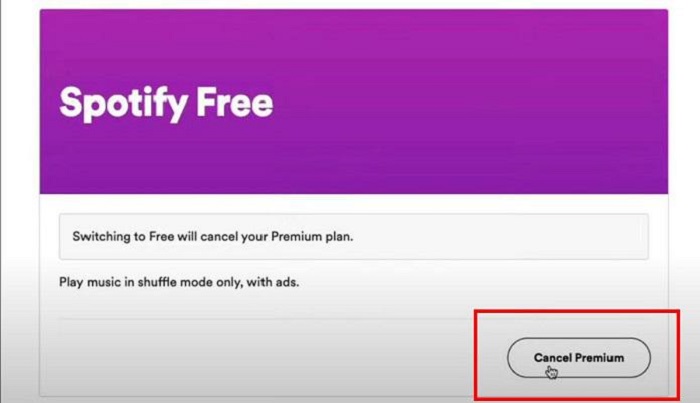 Step 5. On the pop-up window, confirm your unsubscription.
Once you have canceled your subscription by completing the steps above, your premium plan will expire at the end of the trial period. After that, you won't be able to skip between songs as much as you want, and you can only skip 6 times per hour. You will also receive ad interruptions and lose the opportunity to listen offline.
Is it Possible to Keep the Spotify Premium Offline Feature Forever?
All superior music experiences like extreme sound quality, unlimited skips, and ad-free interfaces that you can experience again after you cancel your Spotify subscription. Even if you want to download your music locally and save it to various devices, there is still a way to help you make it come true. MuConvert Spotify Music Converter can help you bring everything back.
MuConvert Spotify Music Converter is a powerful Spotify music downloader that can remove the DRM protection of Spotify and download songs to MP3, M4A, MAV, and FLAC formats from Spotify. In such a context, you can not only keep music locally but also transfer downloaded tracks into multiple devices to play. Then the unlimited skips are self-evident.
In addition, MuConvert Spotify Music Converter can download music in lossless quality and maintain the original ID3 tag of different songs. This can ensure you can have an optimized listening experience. As for ads, MuConvert is embedded with the original and clean Spotify web player, so no more ads will disturb you.
Some other features you are fond of.
Batch conversion at 5X faster speed or higher
Support downloading the latest Spotify songs, playlists, albums, podcasts
Simple steps to finish music conversion without the limitation of premium
Keep Ogg Vorbis songs with the highest 320Kbps audio quality
Preserve and edit ID3 tags and metadata info flexibly
Steps to Download Songs from Spotify with MuConvert
Step 1. Download MuConvert Spotify Music Converter by clicking the button below.
Step 2. After you enter the homepage, you need to log in to your Spotify Account by clicking the upper right-hand option.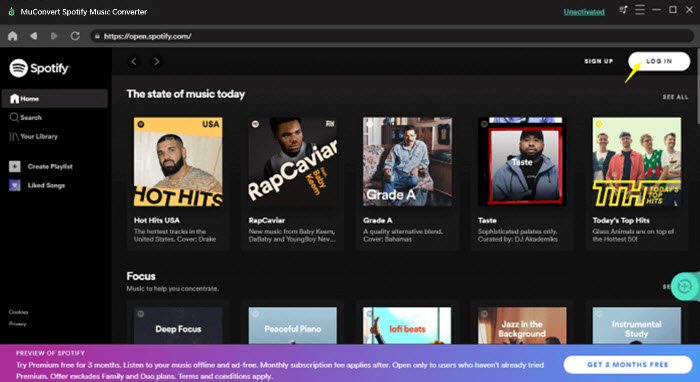 Step 3. Select songs you want to download and drag them to the green Add button. And MuConvert will automatically analyze them.
Step 4. Select the output format for conversion. You are available to choose MP3 or other formats like M4A, WAV, and FLAC.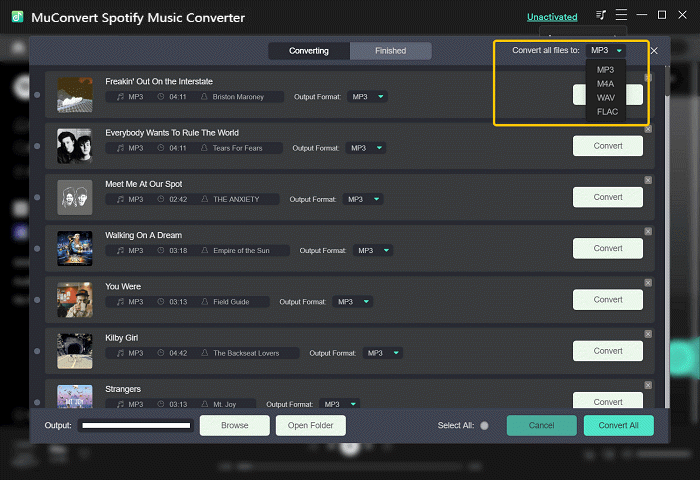 Step 5. Click the "Convert All" icon to convert all Spotify songs. And you check downloaded songs in the Finished section.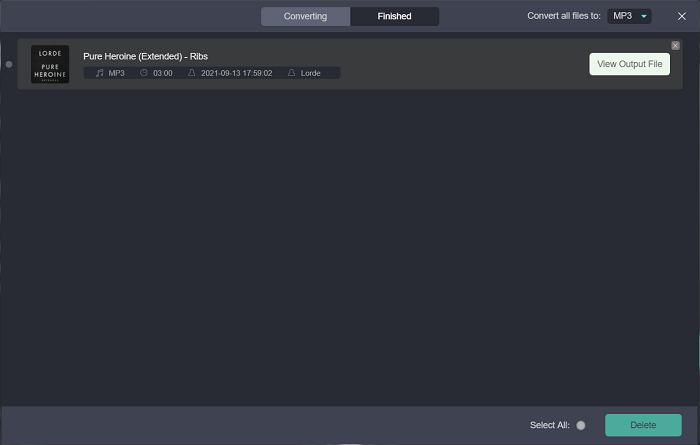 That's several ways you can try to get Spotify Premium free. But here is a reminder that even if you become a subscriber, you still won't be able to download music to MP3 from Spotify directly. So if you desire to keep your music permanently on your devices in a universal format, you might as well give
MuConvert Spotify Music Converter
a try. Its powerful feature can make it possible to download unlimited songs on Spotify.